New release: 'Open (Source) for Business' by Heather Meeker
Congratulations to author Heather Meeker, whose new book,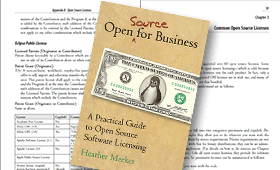 Open (Source) for Business: A Practical Guide to Open Source Software Licensing, was the number one new release in intellectual property law on Amazon when it came out. We are very proud to have helped with this project, a substantive book for software developers, IT managers, and lawyers who want a better understanding of this potentially confusing topic. In the appendices, readers will find quick-reference tables of information on the major open source licenses, as well as forms and checklists they can use to promote compliance in their organization. Doug and Paula handled editorial, and Nat Case of INCase LLC designed the cover and interior, created the figures used to illustrate various concepts, and produced print and e-book versions. Working with Heather was delightful from beginning to end.