Book Design and Layout
Your book is written and edited, but it's still a manuscript. Now it's time to turn it into a real book, one that people can buy and read.
One of the advantages of self-publishing is that you have control over how your book looks. You have ultimate approval over the design of your cover, the back cover copy, and how your pages are laid out. When you work with Fleming Editorial on the design of your book, we listen to you very carefully. Who's your audience? What's the tone of your book? How will readers be using your book? What channels will you be marketing it through? Then we craft the interior page elements and cover to reflect your vision and serve your readers.
Cover and Interior Page Design
Based on your input, Nat Case drafts the design for your book's cover and interior. Then we bounce it among the three of us, asking questions: Does this arrangement of the cover art really work? Could the layout of lists in the text be improved? What if we opened chapters this way instead of that way? How much white space should there be? How should special elements like boxes and worksheets be handled? And many more questions. Once we feel good about the design, we send the cover and sample interior pages to you so you can react to them. Based on your feedback, we'll revise, and we'll do up to three rounds of revision based on the initial idea. The end result is a professional-looking book that we are all proud of.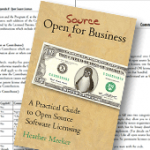 Cover
Readers do judge a book by its cover. It's essential that your cover make a good impression. As more readers buy books on their mobile devices, especially their phones, it is important for your cover to be eye-catching at thumbnail size. For many authors offering professional advice, a key balance to strike is between looking serious, substantive, and authoritative on the one hand and accessible, friendly, and fun on the other.
Fonts, Photos, and Art
Choices for your book include what fonts to use on the cover and for various text elements, such as headings. Fonts are intellectual property, so it is important that fonts be licensed for their intended use. For example, not all fonts that are free for commercial use in print books are also free to use in ebooks. Stock photos and images, which are pretty inexpensive, can be used to create a professional-looking cover, but commissioning artwork is also a possibility. Author-provided photos can be used if they are high enough quality. If figures are used to illustrate the text, it is often beneficial to have them professionally rendered, a service that we provide.
Ebooks
Most authors today want to publish electronically as well as in print or even instead of in print. If your intent is to make your book available for Kindle, iPhone, and other digital reading platforms, we'll design your book so that it works well on the screen. Learn more about Ebooks.
Why Fleming Editorial?
We are committed to the highest standards of client service and integrity. We have many years of experience but are always seeking to learn and improve. We love what we do and are very good at it, and that stands out in the quality of the finished products we deliver to our clients.